Are you an ambitious business owner seeking to enhance your supply chain's efficiency? Or do you have valuable goods destined for locations within Canada or across borders? In either case, unlocking the potential of a freight forwarding company can be the strategic solution you've been searching for.
Navigating the intricate landscape of international trade and shipping demands expertise, precision, and time, which is where a reliable freight forwarder steps in, offering a multitude of merits to businesses looking to excel in their global endeavours.
Today we delve into the undeniable benefits that using a freight forwarder like Jenik Freight can bring to your business. From cost-effective logistics and streamlined customs clearance to expert risk management, our quick guide will illuminate why freight forwarding should be integral to your supply chain strategy.
Table of Contents
Expertise and Experience
Freight forwarders are experienced professionals with in-depth knowledge of international shipping regulations, customs procedures and regulations, and documentation requirements. They can navigate complex shipping processes, such as risk management (e.g., customs delays, port strikes, or natural disasters), ensuring that your goods reach their destination safely and efficiently and without unnecessary delays.
Trusting your supply chain to a freight forwarder will also save time, as outsourcing a freight forwarder will help manage the time-consuming administrative effort put into shipping. Additionally, the flexibility and experience our Jenik team possesses means we can accommodate different shipping requirements, from small shipments to large, oversized cargo.
Our Jenik team has over a decade of combined experience in freight forwarding, thus bringing the necessary expertise to help you streamline your operations.
Cost-Effectiveness and Safety
Freight forwarders can leverage their relationships with shipping lines, airlines, and other transportation providers to negotiate competitive rates on behalf of their clients. They can also optimize shipping routes and consolidate shipments to reduce shipping costs. At Jenik Freight, we offer competitive rates and personalized services to fit your needs best and save you money.
Furthermore, combining a freight forwarder's network and expertise ensures a high level of security when transporting your cargo. Jenik Freight offers cargo insurance* and our expert team can do a comprehensive assessment determining the potential risks your cargo might encounter.
*Cargo insurance is an optional add-on and provided upon request. Please contact us or visit our cargo insurance page to learn more.
Door-to-Door Delivery and Pick-Up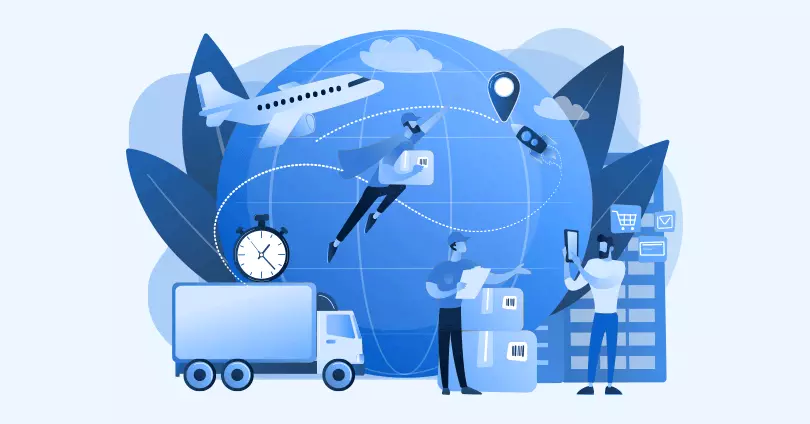 Jenik Freight offers end-to-end logistics solutions, including pickup, transportation, customs clearance, and delivery to the destination. Jenik Freight has door-to-door delivery across all seven continents* we ship to and offers Canada-wide pick-up services.
*Jenik Freight ships to every continent excluding Antarctica. Please contact us for further details on door-to-door delivery.
Network and Infrastructure
Established freight forwarders have a wide network of agents and partners worldwide. This network enables them to handle shipments to and from various locations and ensures a seamless shipping experience.
Jenik Freight is BBB-accredited and certified members of IATA, FIATA, and CIFFA. CIFFA – the Canadian International Freight Forwarders Association – is renowned as a world-class association for freight forwarders, load brokers, and carter/drayage companies, and boasts an impressive track record of success.
Choosing Jenik Freight, a CIFFA member, as your freight forwarder means opting for the expertise of well-trained professionals who carry Freight Forwarders Liability Insurance, and load brokers who dutifully adhere to the FMSCA Surety bond requirement. CIFFA members embody the opposite of 'fly by night' organizations, and their sterling reputation earns them the trust of businesses relying on top-tier service. When you partner with a CIFFA member, you can rest assured that your logistics needs are in the hands of true industry professionals.
To learn more about our partners, visit our homepage.
Compliance and Documentation
Freight forwarders are well-versed in the documentation required for international shipping, including bills of lading, certificates of origin, and insurance documents. Their expertise ensures that all necessary paperwork is completed accurately and on time.
Closing Thoughts
Overall, using a freight forwarder can simplify the shipping process, reduce operational burdens, and help businesses expand their global reach while ensuring efficient and reliable delivery of goods. However, choosing a reputable and experienced freight forwarder is essential to reap these benefits fully. Choosing Jenik Freight means outsourcing some of the most stressful aspects of having a business, and our Jenik team has all the right expertise and experience to help you manage, optimize, and grow your supply chain.
Need help figuring out where to begin? Contact us today and let our expert Jenik Freight team help you get started!
To learn more about our services and company, visit our homepage.
Read our latest Jenik blog updates!
Sources
Advantages to Using a Freight Forwarder